There are many different types of silver stackers just as there are many different reasons to start silver stacking. Many collectors spend a premium to buy higher quality bars. The premium is the price of a piece of silver above the spot price.

While buying attractive silver can be a fun way to get valuable art, if you want to have lots of silver, the premium adds up to a lot of money. If you buy silver with a 10% premium and spend $100, that means you will have only $90 worth of silver.

Now, some silver with high premiums retain their value, but not all of them do. Buying silver with high premiums is speculation because you are guessing that the silver will still retain the value above the spot price.

Someone looking to invest in silver should buy silver close to spot as well as nicer rounds. One of the best ways to buy silver is to look for silver in spare change or bargain prices online.
Bargain Bins
Money Metals exchange has a great bargain bin to attract customers. These aren't the prettiest rounds or bars, they may have milk spots or patina's, but it is a great way to get cheap silver.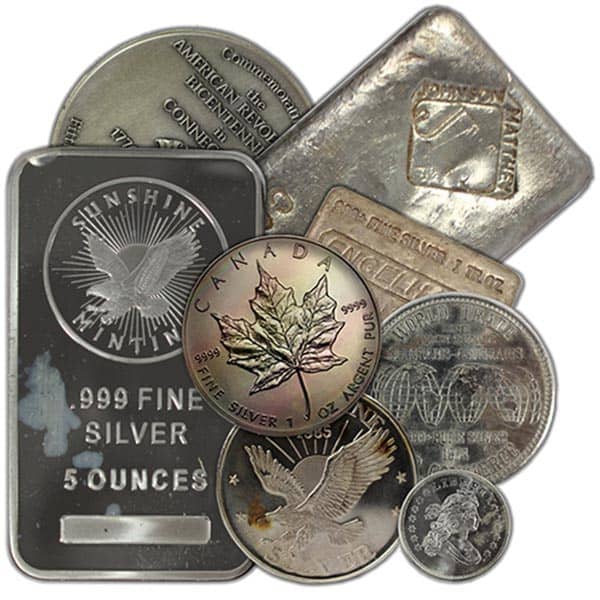 Buy Bargain Bin Silver (Best Place to Purchase Low Premium Silver)
from:
Money Metals Exchange
Even a bar with a patina still retains its spot price. The spots do not affect the metal content.
In fact, some collectors look for older bars when purchasing. That older Engelhard bar in the featured image for the silver bargain bin deal would probably command a premium if sold online. Engelhard bars are very desirable to silver stackers.
The reason most online dealers like Money Metals Exchange can sell these items for cheaper is because it saves them time. Instead of creating a page to sell each bar of gold or silver they buy, they can sell them in lots for a small discount.
If you are a gold stacker, you are in luck, because there is also a bargain bin for gold! This could be gold that has been melted, holed, or scratched.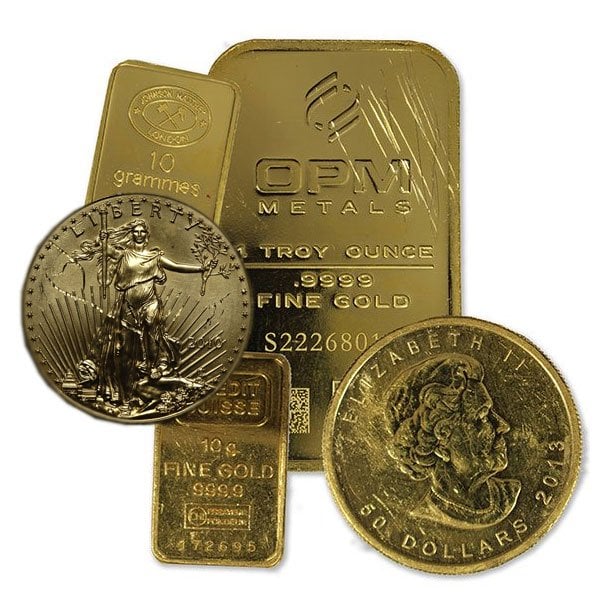 Bargain Bin Gold – .999+ Pure
from:
Money Metals Exchange
Random Design Lots
Another great way to buy cheap silver online is to buy "random designs". This is usually where companies get rid of overstock silver. I have used random lots to buy cheap silver and I received 6 beautiful looking Scottsdale Silver Lion rounds! (See the featured image at the top!)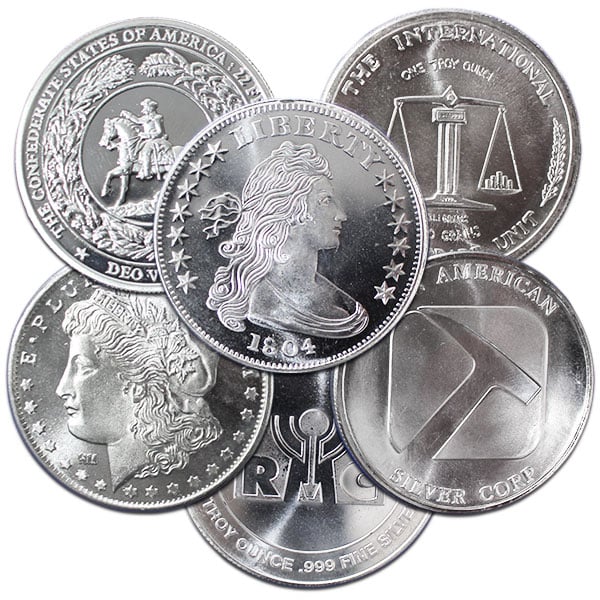 Silver Round – Random Design – 1 Oz .999 fine silver
from:
Money Metals Exchange
Another fun aspect of buying silver this way is that it's exciting to open the package when it comes in! It feels like Christmas getting a package and not knowing it's contents.
Just looking at all this silver makes me want to put more in my stack!
---
How do you find cheap silver? Have you had good luck with these bargain lots before? Share your experience!
I am an affiliate of Money Metals Exchange, so I make a commission on any products purchased through links on my site. This helps keep my site updated regularly. Thank you for the support!