A silverbug is someone who collects silver usually in the form of bullion or old coins, but they may also collect silverware or jewelry.
There is a thriving "silverbug" community online where people like to post their silver stacks and recent purchases. Most silverbugs prefer to talk online for anonymity, since large amounts of silver would make them good targets for burglars.
How to become a silverbug?
Start buying silver! Here are some tips to be smart about buying silver when you are getting started.
No one knows how silver prices will change on any given day, but we can use historical data and confidence intervals to help make smarter silver purchases.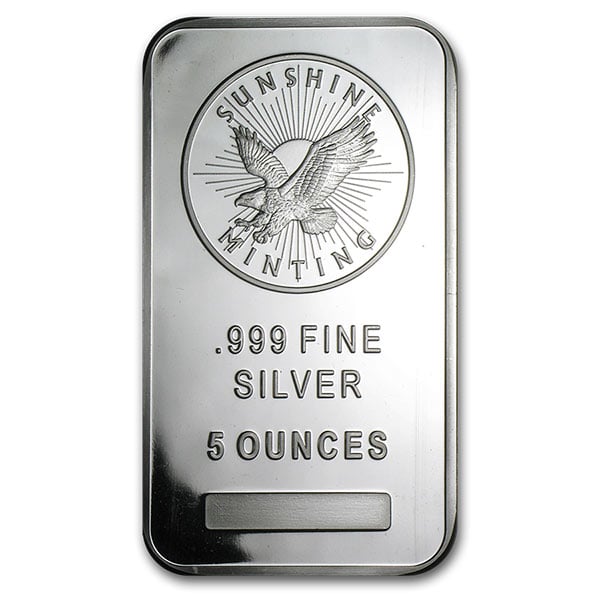 Sunshine Mint 5 Ounce Bar, .999 Pure Silver
from:
Money Metals Exchange
The best way to buy silver is to dollar cost average. This means that you buy a bit of silver on a consistent basis with little thought to the price. This means you may pay more sometimes, but you are not stuck waiting for lows or trying to time the market.
What counts as a good price for you may be different than what someone else considers a reasonable price. Personally, silver under $20 feels like a great buy for me, and silver over $26 seems overpriced. How I feel may change with time.
A great way to get started is to look at deals for new customers. Many of these deals offer silver at spot! Here is a link to SD Bullion's spot silver deal where you can get a 5 oz silver bar.
You can also buy bulk silver from Money Metals Exchange's bargain bin where silver is offered with low premiums: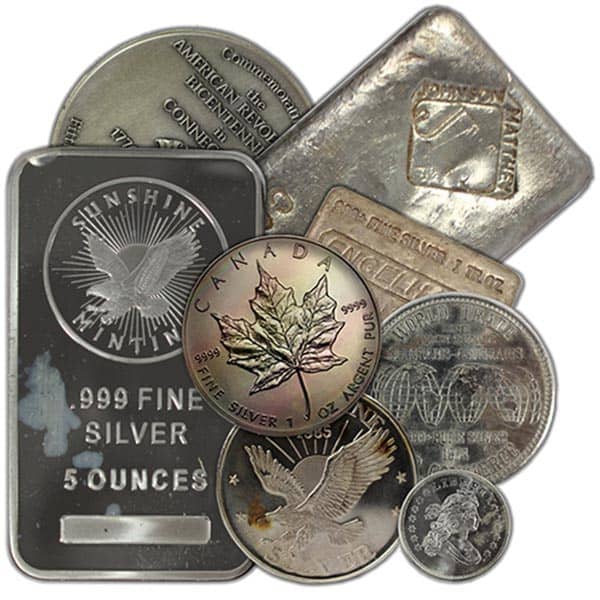 Buy Bargain Bin Silver (Best Place to Purchase Low Premium Silver)
from:
Money Metals Exchange
If you want to learn more about bargain silver bins, you can go to this article: "Bargain Bins: One of the Best Ways to Buy Silver Online". In this article I discuss bargain bins and similar ways to buy cheaper silver online.
What silver do silverbugs buy?
There are many different ways of buying silver. A silverbug may collect bullion, old coins, silverware, jewelry, or anything else that contains silver.
Most silver collectors stick to bullion, because you can usually get more silver for a cheaper price. However, bullion is not just silver melted down into bars anymore. Many bars feature art on them!
These bars are very pretty, but usually sell for a premium over the spot price of silver. (Spot price is the current selling price of an ounce of silver. Getting silver at spot means it is a good deal.)
There are even silver bars meant to attract silver bugs! Here is the 2 oz Stag Beetle Silver Round from the Intaglio Mint that will be available in Spring 2021.
SD Bullion has a whole section of silver marketed towards self proclaimed 'silverbugs' you can check out that collection by clicking here.
Most silverbugs get started by buying silver close to spot price. For your first silver purchase, I would buy one to ten ounces and see how it makes you feel when you get the chance to hold it. I knew I loved silver once I got my first silver rounds in my hand.
What do silver collectors do with their silver?
Nothing!
Well, that's not completely true. Silver is not a toy, so there is nothing to really do with it. Some people have what they call "fondle pieces" of silver which is silver they touch and play with in their hand. Much like Gollum with the one ring.
Silver gives many people a sense of safety, knowing that silver is historically a good store of value and a good hedge against inflation. Some silver stackers worry about the complete economic collapse of the dollar.
Is there a wrong way to invest in silver?
Some people may disagree with me, but there are definitely wrong ways to invest in silver. Unless you have no trust in the US dollar and global financial economy, you should be careful not to put too much money in silver.
Buying silver can be addicting! It is fun to watch your stack grow. But, it can start to take away from other more profitable investments. Make sure you are still investing into 401k's and retirement accounts. Cryptocurrency is another way to diversify if you are worried about the stability of the US dollar.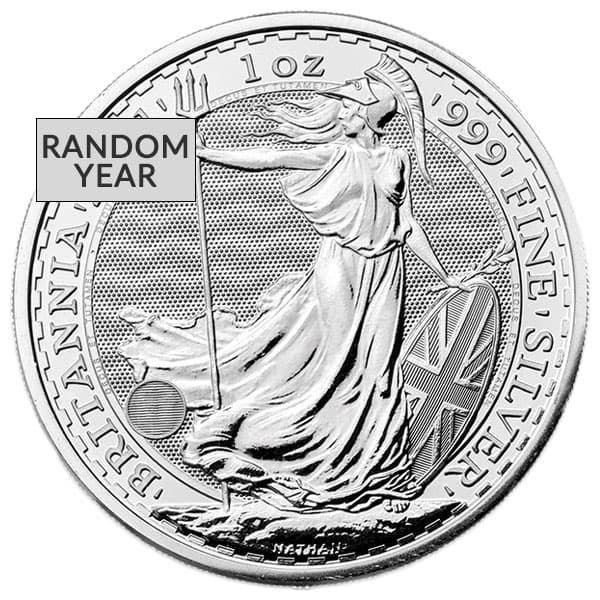 British Silver Britannia Coin – 1 Troy Oz, .999 Pure
from:
Money Metals Exchange
Have good hiding spaces for your silver. You do not need a high end safe, even a diversion stash can will do. Find somewhere it is unlikely to be stolen from thieves, family, or friends.
Silver Terms And Definitions To Know:
Bullion – Gold, silver, or other precious metals kept for their value.
Bars – Silver melted into a bar shape. Think of a candy bar.
Rounds – Silver melted in the shape of a circle, similar to a coin.
Troy Ounce – A measurement used for precious metals. A troy ounce is 2.75 grams heavier than a regular ounce.
Spot – Refers to the "Spot Price". This is the current buying price of silver.
Sterling Silver – A less pure form of silver. Contains 92.5% silver by weight.
---
Share a comment and vote in our poll below!
I'm an affiliate with SDBullion and Money Metals Exchange through Share-a-Sale. Any purchases made through links help support my site. Thanks!